Heading to Bentleyville and want to make the most of it? Follow the tips below to easily experience everything Bentleyville and Duluth has to offer!
When to Visit
First-Time Visitor
Parking / Getting to Bentleyville
Do this at Bentleyville
Hotels & Dining
Other Tips
I Spy Printable
Here's a helpful calendar to assist you while you plan your visit to Bentleyville. Please note that the weekends are extremely busy – please visit Monday-Thursday if you are able to!
This calendar is WEATHER DEPENDENT! We are busier when the weather is favorable and slower on nights with bad weather.
Notable Dates:
November 18th – Opening Night – Santa and Mrs. Claus will parachute into Bentleyville! Get there by 4:30 to see all the action!
November 23rd – Thanksgiving – We are open!
December 23rd – Final Night to see Santa before he travels the world
December 24th – Christmas Eve – We are open!
December 25th – Christmas – We are open!
December 26th – Final Night! – Fireworks @ 6:30 pm!
Bentleyville is FREE – Bentleyville has free admission for all guests. Guests are encouraged to bring a nonperishable food item or new unwrapped toy to donate to those in need.


---

How to Dress – BENTLEYVILLE IS AN OUTDOOR EVENT! DRESS FOR WARMTH! It is always easier to take off a layer than to add one (though you can stop in our Gift Shop and pick up a scarf or sweater!) Our event is on the shores of Lake Superior and the weather conditions can be very hard on those who are very young or very old. Please dress for strong winds and cold temps!


---

Handicap Accessibility – Bayfront Festival Park is handicapped accessible and we keep the pathways as clear as possible for those who need mobility assistance. We have wheelchairs that are free to use for guests. They are available on a first-come-first-serve basis and are located near the main entrance. You can also ask event staff for a chair when you arrive and we will bring it to you.


---

Should I bring a stroller or a sled to Bentleyville? –  Strollers, like wheelchairs, are free to use on a first-come-first-serve basis. You can grab one near the main entrance when entering Bentleyville. Feel free to bring your own stroller, though we do not recommend sleds. We clear the paved pathways daily and salt the ice and snow that is built up, so it is difficult to pull a sled at Bentleyville.


---

Bentleyville opens each night at 5 pm – including all Holidays! – Bentleyville will open Saturday, November 18th and continue through Tuesday, December 26th. We will be open on Thanksgiving, Christmas Eve, and Christmas.
November 18th – December 26th, 2017
Sunday – Thursday 5 pm – 9 pm
Friday & Saturday 5 pm – 10 pm
---
Explore all that Duluth has to Offer – Are you in Duluth for the day or the weekend and want to find fun things to do during the day before Bentleyville? Check out our Explore Duluth page! Find some great eats and shopping in Canal Park, spend the day at the water park at the Edgewater , take a Christmas tour of the historic Glensheen estate, get the full 'Duluth Experience' with a personalized tour of the city, or find countless of other activities for the whole family at Visit Duluth!
If your visit to Bentleyville falls on a Friday, Saturday, or Sunday, avoid the frustration and park in Downtown Duluth! Instead of waiting in a line of cars for 1-2 hours to get into the parking lot, you could park and take the Jingle Bus (Fridays & Saturdays) or walk to Bentleyville in a matter of minutes!
http://www.bentleyvilleusa.org/jingle-bus/
If you do insist on using a parking lot at or nearby Bentleyville, please be patient and try to get to Bentleyville as early as possible to avoid the long waits on Fridays, Saturdays & Sundays.
(Click the map below for an interactive Google Map)
Bentleyville is a free family event thanks to our wonderful sponsors and generous donations from visitors. Without their help, we could not offer all of the great experience below!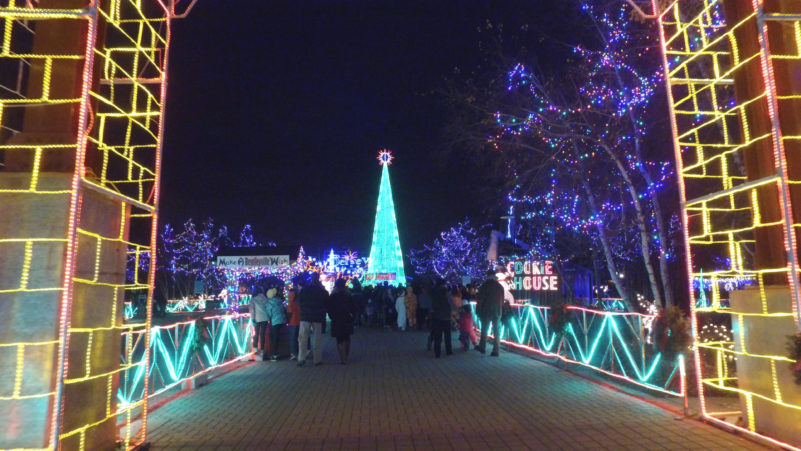 Free Hot Cocoa & Cookies – The first stop for many Bentleyville visitors is the Cookie House for a steaming cup of hot cocoa and cookies. Coffee is also available, just ask!


---

Free Popcorn – The Popcorn Box has a tasty warm snack for you! Grab a bag to enjoy before you reach the fire pits or stroll along the shore of Lake Superior.


---

Free Marshmallows – Get a sweet and tasty marshmallow from the Marshmallow Hut to roast at one of the many fire pits. Want a s'more? Our Gift Shop next to the fire pits has plenty of chocolate and graham crackers in stock for the whole crowd!


---

Free Visits with Santa & Mrs. Claus – Santa and Mrs. Claus are waiting for you at Bentleyville and they have special treats for the good boys and girls! Santa will have a new knit winter cap and a bag of cookies, while Mrs. Claus will have candy cane treats. 
Santa & Mrs. Claus are available for visits every evening from 5 – 8, November 18th – December 23rd, 2017
---
Santa's Naughty & Nice Lists – Santa keeps his Naughty & Nice Lists on display at Bentleyville. You can add a name to either list by visiting our Naughty or Nice page.


---

Photo Opportunities – Bring your camera, there are countless opportunities to capture a magical moment with your family and loved ones! Feel free to take photos of your friends and family as they visit with Santa and Mrs. Claus or dance with Rudolph the Red-Nosed Reindeer and Snowball the Squirrel. Take a selfie with Duluth's iconic lift bridge in the background or catch the kids acting silly in one of our photo cutout boards.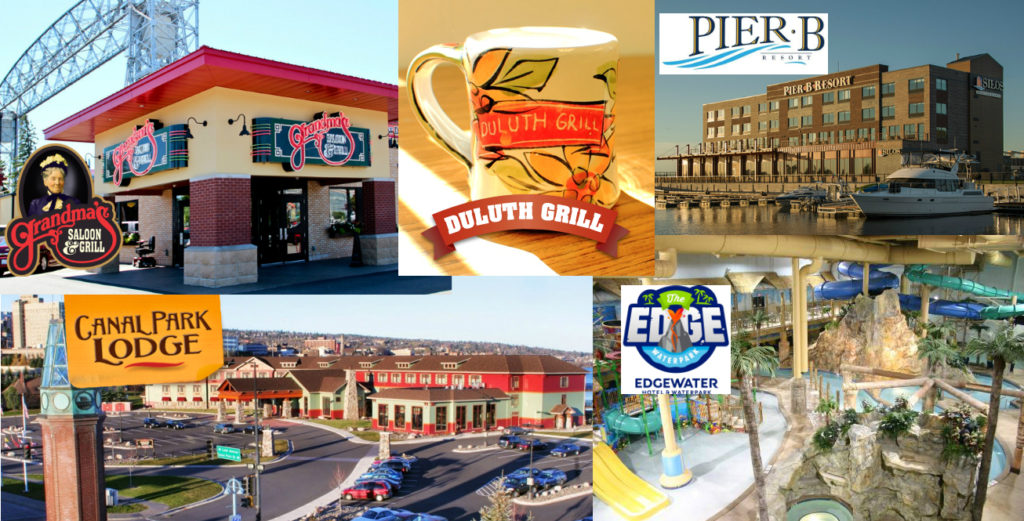 There are many great hotels and restaurants within walking distance to Bentleyville (Canal Park is only a 5-minute walk). Pier B, The Edgewater Hotel & Waterpark, and Canal Park Lodge are great hotels to check out during your stay. Grandma's Saloon & Grill, Bellisio's, The Sports Garden, The Duluth Grill, and Pizza Luce have excellent dining options. Check out our Hotels & Dining page for a complete listing of supporting hotels and restaurants.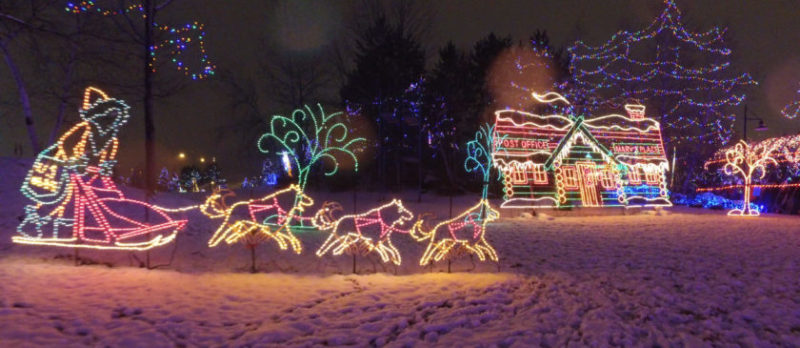 Arrive Early – The park opens to guests each evening at 5 pm. Before the park is officially opened, Mayor Bentley greets the crowds at the main gate and conducts an official countdown to turn on all the lights each night! Make sure to arrive before 4:45 pm to help turn on the lights!


---

See Santa First – Santa Claus is in high demand at Bentleyville and the line to see him can get long – FAST! Skip the cookies, marshmallows, popcorn and photos, and head straight to Santa first. This will ensure that you get to see Santa with plenty of time to enjoy the rest of Bentleyville! Remember – only children 10 years and younger receive a new knit hat after visiting Santa.


---

Bundled Up But Still Cold? – Stop at one of the three Bentleyville Gift Shops to find hats, mittens, sweaters, hand warmers, and many other great items at great prices! We have a store located near the entrance, one near the fire pits and one in the Santa Line. Sorry, online ordering is not available.


---

Visitors with Disabilities – The pathways through Bentleyville are handicap accessible. Visitors with disabilities are encouraged to visit us Monday – Thursday, when there are fewer people in the park. On Fridays, Saturdays and Sundays, the park becomes difficult to navigate and view, as there are many more people visiting on those days. If your child has a disability that prevents him or her from waiting in line or uses a wheelchair, please ask a staff member about visiting Santa. We will accommodate those with special needs.


---

Leave Your Pets at Home – Pets are NOT allowed at Bentleyville. Please leave your pets at home or with a sitter.
If you get invited with friends and family to Bentleyville, it can at first seem overwhelming, but with the Duluth Moms Blog's fun free printable, here's a way to focus in on the fun, and have an exciting time! Click here or on the image.
Check out more great information for families in Duluth by visiting the Duluth Moms Blog